In spatial and movement research the use of the term `landscape´ is often understood as something external to and independent of the body.  Climate change, high dynamics in urban development and new social movements are asking for methods, to read, interpret, design and to choreograph landscapes as structures of transformation.
We believe that how the body interacts with the landscape shapes its structure simultaneously as the landscape informs the body. Questioning approaches and perceptions of movement, rhythm and sequence could lead to methods of perceiving and designing landscapes as performative processes.
Our goal is to put attention to the body as a self regulating organism that modifies and adapts in relation to a specific space. At the same time we will pay attention how the space is transformed in return by the bodily presence.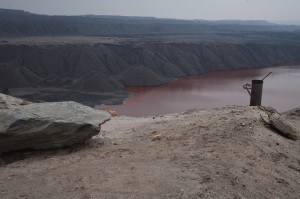 Anja Steglich is working in the fields of landscape design, spatial research and scenography. She holds a PhD in Landscape Planning (TU Berlin), worked as a lecturer at the Instititut for Geo Sciences in Halle, Germany and at the Faculty of Architecture in Rio de Janeiro, Brazil. As landscape designer she focuses dynamic approaches to landscapes evolving and reproductive strategies in energy- and water management. She made a documentary about temporary use in Berlin and is working as a stage designer in the field of contemporary dance and performance. Productions were shown at Uferstudios and Dock 11 Berlin and within the Dance Festivals Tanz im August and Tanzfestival Zurich
Christine Borch is working as a choreographer, dancer and vocalist. She holds Degrees in Choreography with Digital Arts practices and Textual practices (Dartington College of Arts and University College Falmouth, UK). She showed own performances within different Dance festivals like Tanz im August, Lange Nacht der Theater, 100 Degree Festival in Berlin. She spent two summers with Min Tanaka in Japan researching Body and Environment at the Body Weather Farm. She was holding a DanceWEB scholarship in the frame of Impuls-Tanz Vienna and a scholarship to Celtic Media Festival, Galway, Ireland. In november 2011 she was awarded for the Best German Dance Solo.